FRONT SHELF FOR 1000 SERIES
Customer Reviews
Write a Review
Ask a Question
Filter Reviews:
work surface
platter
shelf attachment
rocket science
sorts
equipment
packaging
Amazon
Delivery
directions
23 Sep 2022
Todd M.

United States
Front Shelf
Easy to install. Great addition to my grill. Always looking for a place to put stuff down
12 Aug 2022
George F.

United States
Great finishing touch
Adding the front shelf was great! It folds down easily for storing and allows the cover over just fine. The extra work surface is perfect for moving food on and off the grill or for extra space when rearranging things.
11 Jul 2022
Donald W.

United States
Must have shelf
If you use any type of grill, you know that a shelf is invaluable when putting on and taking off foods. I purchased this for my 1000D. Perfect fit after a few emails to the great staff at Zgrills. Watch the videos on installation so you won't make the same mistake I did, I had the brackets on wrong making it appear that the shelf was too wide to fit the grill, my mistake but Zgrills showed me the error of my ways and I got it installed properly. Definitely recommend this for any 1000 series Zgrill.
27 Apr 2022
Jerrod P.

United States
Smoker
Excellent! Putting it together was fun.
27 Apr 2022
Nathan G.

United States
So Far So Good
I've used the 1000D3E a handful of times already since receiving it a few weeks ago. So far, I've been very satisfied with how all the meats have turned out. The 1000D3E has plenty of surface area to smoke whatever it is and the smoke *********** is very impressive, even without the smoking tube. The heat / smoke retention inside of the grill is satisfactory, however, I did install a gasket seal for safe measures. The grills runs about 25 degrees warmer than the PID controller is set to, so I do have to be aware and check on the temps throughout the day. Overall, this is a great beginners grill to get introduced into the world of BBQ.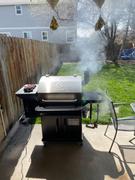 20 Apr 2022
John D.

United States
Collapsible Front Shelve for 1000D3E
The Front Shelf accessory was easy to install and makes handling food to put on the grill much easier.
18 Apr 2022
Lawrence C.

United States
Easy to install. Great addition to my grill!
06 Dec 2021
Richard B.

United States
Shelf as expected.
Surprised there were no directions of any sorts. Not rocket science though, installed easy enough. As with any shelf attachment I've ever had or have, I wish the were deep enough to actually put a platter on and make it a true work surface.
21 Oct 2021
Glenn P.

United States
Love my Z Grill
From the packaging to delivery by Amazon, everything is great with this grill. No problems with any of original equipment on the 1000 d