A Great Way to Buy Your First Pellet Grill
No Matter Which Grill You Receive It is an Unbeatable Value
8-in-1 Cooking Versatility: Outdoor Cooking at It's Best!
Whether cooking low and slow or hot and fast, our 8-in-1 grills get it done with ease and precision!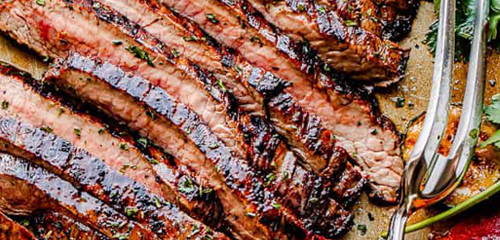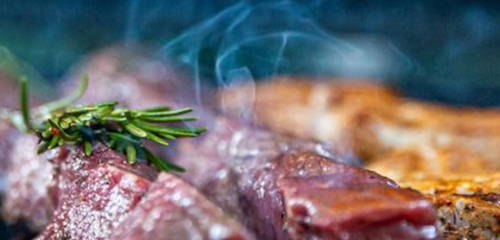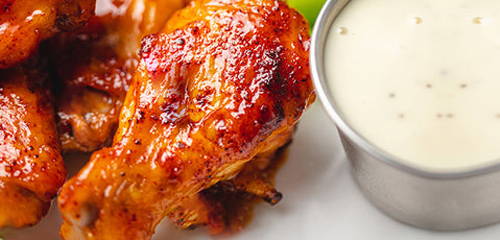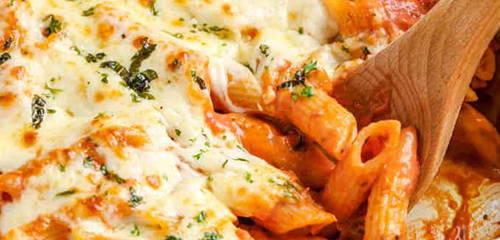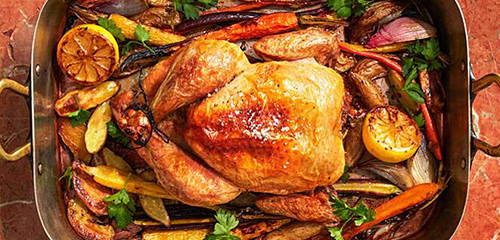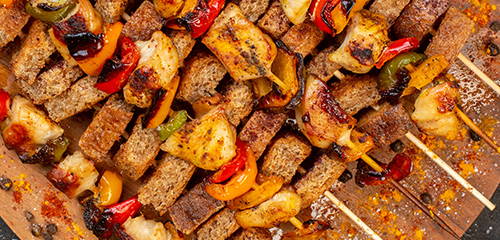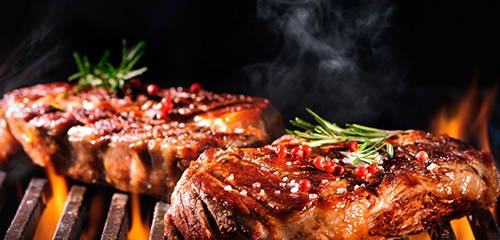 A Surprise Pellet Grill from the Following 5
5 handpicked pellet grills valued between $499 and $699
A Bundle of Free Accessories
Everything you need to be ready to cook out of the box, including 100% all-natural hardwood pellet fuel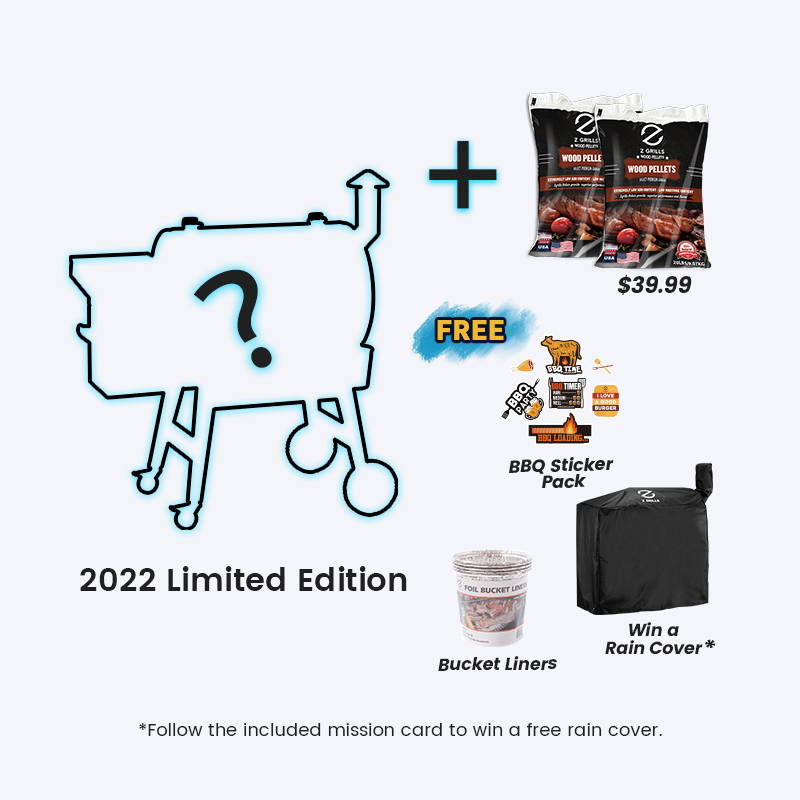 Exceptional Quality & Performance
30 years of grilling expertise brings innovative designs, premium materials, and superior quality to the entire family of all Z Grills Pellet Grills. Every product we offer is built to last, crafted with passion, and finished with an unwavering attention to detail. Every pellet grill in the Blind Box is hand-picked to deliver an exceptional wood-fired grilling experience that lets everyone feel confident in their outdoor cooking.
3 simple steps for a FREE rain cover ($49.99 value)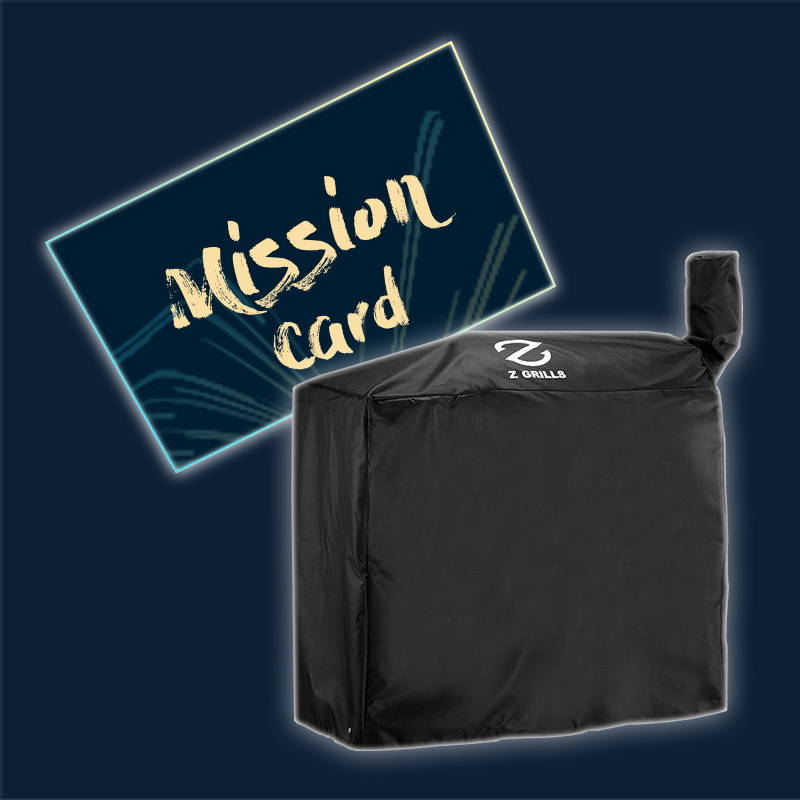 Complete the Mission Card to Get the Reward
Want a free rain cover to protect your investment? We are giving away free rain covers to all our customers who completed the tasks stated on the Mission Card! Find it in the blind box, follow the steps, and you will get a FREE rain cover (all you need to do is cover the cost of shipping)!
    3 Steps to Get Your Cover:
Follow Z Grills on Facebook/Instagram/Twitter.

Create a video about your Z Grills Blind Box and post it.

Email the screenshot of your post and post link to service@zgrills.com.
    That's it.
Proven and Tested Recipes Delivered Right to Your Inbox
Receive FREE easy and delicious recipes every week.
Everything from seasonal recipes, wood-fired dinner ideas, to sides or desserts, and more!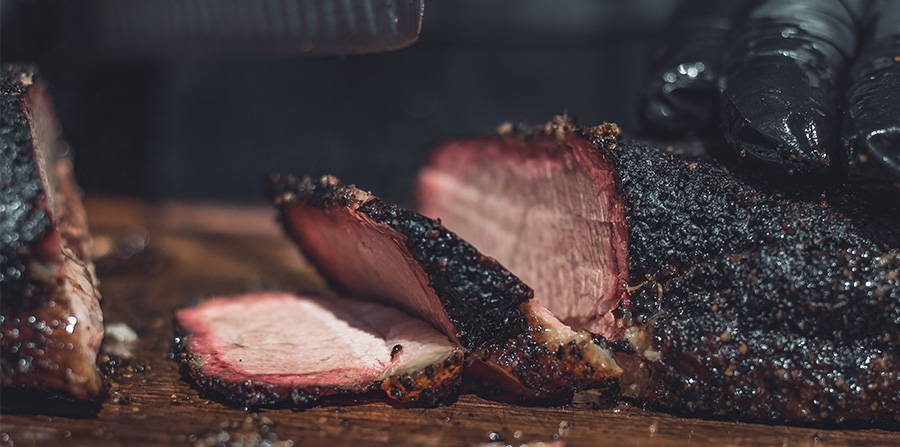 See what the authorities have to say
Unboxing Experiences from Our Customers
What's inside their blind box? Check out the unboxing video and find out!
Unboxing Stories Best Told
Take a look at some of the incredible feedback we got for our Blind Box
Z Grills blind box
★★★★★
I was in search of a new pellet grill and Z grills was at the top of the reviews. After looking at the blind box offering I decided to pull the trigger as I was happy with any of the options. I was lucky enough to get the 7002C2E!! SO STOKED! I used it last weekend and it was awesome! Thanks ZGrills!
Kyle Leffler
Best pellet grill for the money
★★★★★
Was really easy to assemble. Maybe an hour tops. Does a great job on smoking and holding temps pretty good. Very user friendly controls. Best bang for the buck. Only had it about 3 weeks and 4 smokes in. We will see how it holds up.
Shaun Woodcock
Blind box
★★★★★
So far it has been great. Did the initial burn and did some ribs and tri-tip roast. Going to try some brisket this weekend
Todd Murray
My new ZGRILL...
★★★★★
Seems like it's going to be great!!!! First pellet grill I've owned....owned several charcoal in the past so this is a learning process.
coleman stevens
First time
★★★★★
Just used my new z grill for my first night of cooking I made amazing steaks cooked to sheer perfection without any worry of burning or risking them being dry! I am beyond pleased with my purchase.
Margaret Brock
Easy To Use
★★★★★
I have enjoyed using my Z Grill pellet grill. The directions are easy to follow. Customer service has also been a big help too.
Brian Parks
janet gilbert
★★★★★
Really easy to do the start up! Just followed the instructions! Then we grilled a 2.5 lb pork loin roast. Turned out great. Ready to do a turkey breast!
Brian Parks
Great Grill
★★★★★
I was so surprised by the build quality for the price. I have already recommended these grills to family members and co-workers.
Arren Dorman
Nicholas Inman
★★★★★
Went great! Start up was smooth, instructions were easy to follow, and the wings on our first attempt turned out great!
Arren Dorman
Great Value Makes a Great Grill
★★★★★
My first use was smoking dry rubbed ribs in 40 degree weather without the thermal blanket. The grill held the temperature steady. Turned the temperature up when I brushed on my glaze and it caramelized well.
Dino Raso
Awesome first pellet grill!
★★★★★
I have loved using my new 6002B3 I received in the blind box! I haven't owned any other pellet grill to compared but assembly was easy, instructions were good, and the food I've cooked has tasted awesome!
Jason Perkins
SPECIFICATIONS
Temperature Range:
180-450 °F (indirect heat)
Controller Type:
PID (Proportional Integral Derivative) temperature control board
Grill Grate Material:
Porcelain-coated steel
Packaging Weight:
86 to 131 lbs
What's in the Box:
1 × Pellet grill
1 × Mission card
5 × Foil bucket liners
1 × BBQ sticker pack
1 × User manual
1 × Pair of assembly gloves
* List price is for one pellet grill blind box only.
* No refund, no exchange, no returns of the Blind Box are acceptable for any reason unless there are quality issues.
* If there is a significant manufacturing defect, please call our Customer Service department at 1-833-947-4557 and email us at support@zgrills.com within 30 DAYS from the date of purchase to initiate a return.
* Not valid with any other promo, offer, or discount.
* The secret model (7002C2E) is rarer to get than others. Try your luck!
* If there are any other problems, please contact our customer support team. Our exceptional customer support team is ready to help you every step of the way.
* If you prefer to order a specific model, go to the Z Grills product page to purchase it directly.
Already a Grill Master? Elevate Your Grill Game Now
Limited Time Offer: SAVE an extra $50 using code ZG50
Get My $50 Off NOW: ZG50
* Minimum purchase of $499
Innovative Z Grills wood-fired technology for better grilling, every time.
Digital Controller - automatically regulates temperature.
Auger - carries the pellets to the firepot.
Hot Rod - ignites the pellets.
Fire Box - creates flavorful wood-burning fire.
Induction Fan - stokes the fire and circulates heat and smoke throughout the cooking chamber.
Call, chat, or email us to get quick, convenient support for any questions or concerns. We're here for you at every step of the way.
833-ZGRILLS or 833-947-4557
Get grilling tips and tricks from our community of grill masters and experts.