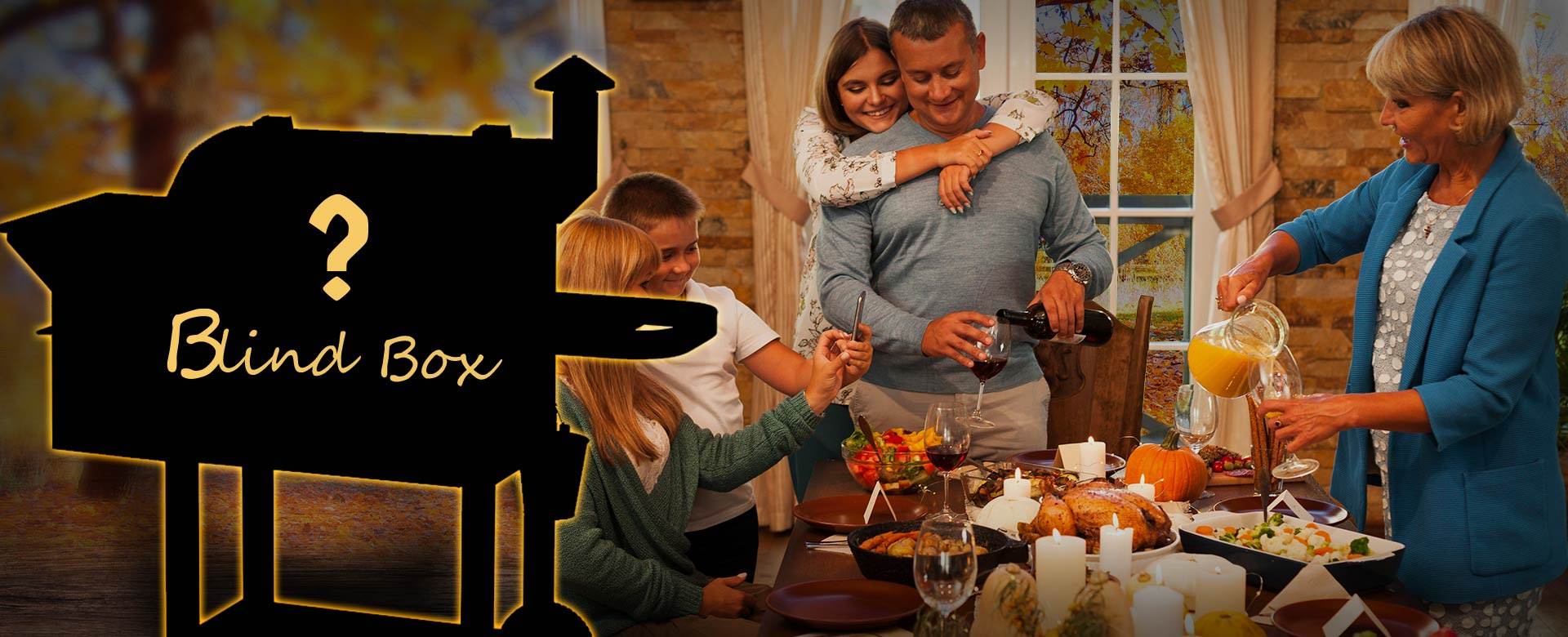 GET IT ALL IN THE ALL-NEW PELLET GRILL BLIND BOX
FLAVOR · VERSATILITY · QUALITY · CONVENIENCE · SUPERIOR VALUE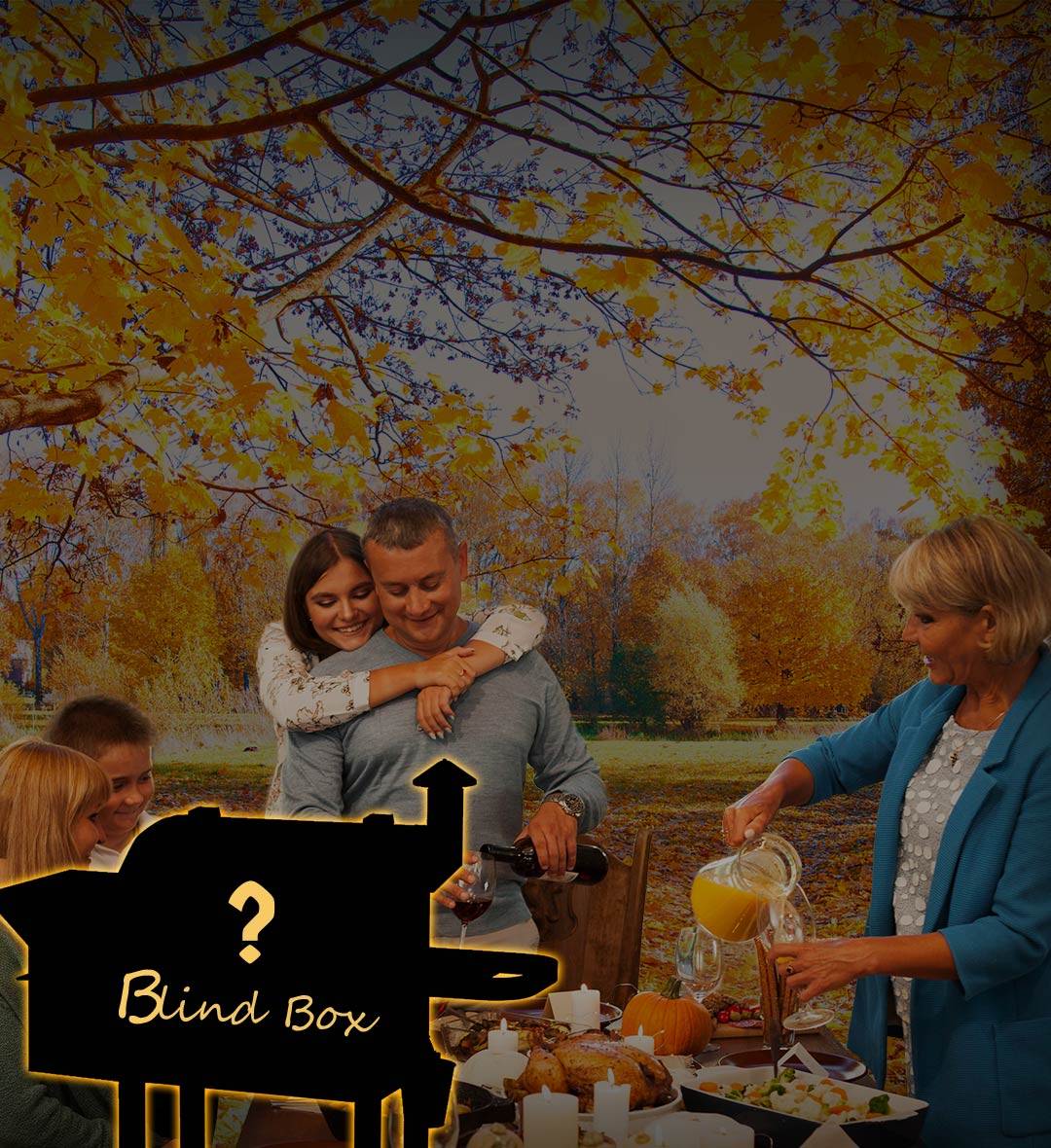 GET IT ALL IN THE ALL-NEW PELLET GRILL BLIND BOX
FLAVOR · VERSATILITY · QUALITY · CONVENIENCE · SUPERIOR VALUE
MEET THE 2023 PELLET GRILL BLIND BOX
You loved it; we listened. "This blind box gives me a chance to get a really expensive smoker for an entry level price!" We hear this kind of feedback all the time from Z Grills users, and it's the reason why we're launching the All New 2023 Limited Edition Pellet Grill Blind Box.
Our blind box pellet grills bring you versatility, quality, flavor, convenience, and superior value, all in one fun and reliable package. Don't miss out on this unique opportunity to get a surprise pellet smoker at an unbeatable price.

CONVENIENCE
No more babysitting the grill. Simply set the temperature and forget it.
QUALITY
Constructed with premium materials and built to last with 3-year warranty.
FLAVOR
Unrivaled wood-fired flavor from 100% natural hardwood pellets.

VERSATILITY
Smoke, bake, roast, braise, sear, grill, char-grill, and barbecue – all-in-one.

BEST VALUE
No matter which one you receive, it's an unbeatable value.

CONVENIENCE
No more babysitting the grill. Simply set the temperature and forget it.
QUALITY
Constructed with premium materials and built to last with 3-year warranty.

FLAVOR
Unrivaled wood-fired flavor from 100% natural hardwood pellets.

VERSATILITY
Smoke, bake, roast, braise, sear, grill, char-grill, and barbecue – all-in-one.

BEST VALUE
No matter which one you receive, it's an unbeatable value.
Starting at $50/mo with affirm. Prequalify now
4 interest-free payments of $137.25.
Experience the best in quality and performance with the All-New Pellet Grill Blind Box. Each box contains 1 of 4 high-quality Z Grills pellet grills, valued between $479 and $719, including our premium 7002C2E model.
These 4 models are equipped with top-of-the-line features that guarantee delicious smoked meals every time. There is no hint on which grill you will get, but if you are a BBQ lover, excited to try a pellet grill for the first time, just want to get in on the fun, or looking for an exciting gift for yourself or a loved one, then this Blind Box is it!
Free shipping. Delivery in 3-8 business days

Same 3-year warranty as all other Z Grills pellet grills
Z GRILLS-L6002E
MSRP: $479.00
Expertly designed for low-and-slow smoking, searing, roasting and more, this incredible machine is the perfect size for your backyard barbecuing needs—not too big, not too small. Just right. Easily dial in your desired temperature with the digital controls—heat up to 180°F for slow smoking and crank it to a blazing 750°F to achieve delicious steakhouse-style perfection!
Capacity
Discover Full Details
Sear Any Steak to Perfection
Flame-kissed food can now be achieved on a pellet grill! With the 6002E, you can easily switch between indirect and direct heat while achieving up to 750°F of direct flame searing.
Fire Up Consistent Results Every Time
PID (Proportional Integral Derivative) temperature control board ensures precise temperatures and perfectly cooked meals, every time you grill – even if you aren't monitoring the grill.
Unrivaled Wood-Fired Flavor
Experience real wood-fired flavor with Z Grills. Using fan-forced convection cooking and 100% all-natural hardwood fuel, this unit delivers great results infused with wood-fired flavor.
All Your Grilling Essentials at Your Fingertips
A solid side shelf with tool hooks makes it convenient to keep your grilling accessories close at hand. Stay refreshed and hydrated with the convenience of a built-in bottle opener.
Z GRILLS-550B
MSRP: $479.00
Ideal for families or entertaining a small crowd, the 550B delivers an unrivaled grilling experience that produces restaurant-quality meals every time. It's built with durable, high-quality materials to ensure you can entertain your family year after year, and season after season.
Capacity
Discover Full Details
CONSISTENCY YOU CAN COUNT ON
The precision temperature controller maintains constant temperatures at all times - even complete beginners can get incredible results from the first use!
Set & Forget Operation
With a digital temperature control, all you need to do is turn it on, set the temperature, and let it work while you play.
Get Adventurous with 8 Unique Cooking Styles
Whether it's wood-fired pizza, low-and-slow-smoked ribs, reverse seared steak, or grilled veggies, the versatile 550A can do it all. This is your all-in-one cooking machine for every meal.
Easy to Roll
With the all-terrain, rock-solid wheels, you can quickly roll your grill over snow, mud, sand, dirt, and any other terrain without breaking a sweat.
The BBQ Maven 550C (5502G)
MSRP: $479.00
The Z Grills 550C (5502G) is a top-notch grilling experience designed to deliver unmatched wood-fired flavor to your home-cooked meals. With a 553 sq. in. cooking area, 550C (5502G) is perfect for any family, enthusiastic backyard griller, culinary expert, or busy mom.
Discover Full Details
Prep Like a Pro and Cook Like a Master
A built-in wood front shelf adds more convenience to your cooking area by increasing your preparation and storage space.  
PID Controller for Consistent Temperatures
The PID technology maintains a precise temperature throughout your cook. Take the guesswork out of cooking and create deliciously consistent meals every time.
Even Cooking Anywhere on the Grill
Using fan-forced convection cooking, this unit delivers great wood-fired results no matter what you are cooking.
Smoke, Sear, and Everything In Between
Grill, smoke, bake, roast, sear, braise, barbeque, or char-grill to perfection with the 550C (5502G). It's a heavy-duty grilling machine that's built to last and is perfect for all your backyard cooking needs.
Z GRILLS-7002C2E
MSRP: $719.00
The 7002C2E (7002F2) is one of our best-selling models with professional quality, creative design, and unique features, all of which will make you become the pitmaster at your next barbecue event. This powerful machine delivers unbeatable results using 100% all-natural hardwood fuel. Get ready to take your outdoor cooking to the next level with Z Grills.
Capacity
Discover Full Details
Conveniently Monitor the Cooking Process
Achieve the ideal doneness every time. 2 temperature probes let you conveniently check internal temperatures on the large LCD control panel without lifting the lid.
Swap Pellet Flavors Seamlessly
To empty unused pellets or swap pellet flavor, simply twist open the door located on the back of the hopper to release all the pellets in one go.
Less Refilling, More Smoking
Get up to 40 hours of unassisted smoking at the smoke setting and 24 hours of grilling at the high setting with the 24-lb large hopper. Check the pellet level at a glance with the pellet view window.
Fast Heat Recovery
The Feed function allows you to boost the smoke for maximum wood-fired flavor or get the internal temperature back up faster after you open the lid.
Here are some of the culinary masterpieces shared by our Z Grillers.
Great Housewarming gift!!!
★★★★★
I gave the blind box to my nephew and his wife as a housewarming gift for their new home and they loved it!!! He got the 550B2 smoke engine and it was the perfect size. We put it together and performed the break in, and then that evening we were smoking tri tips, chicken and hot dogs for a big family feed!!! It worked perfect. Great product. I own a Pit Boss but I will be an owner of a Z grill as soon as it wears out.
-Daniel H.
First time pellet grill owner
★★★★★
I live my Zgrill! I tried charcoal and gas grills, but I always burnt up my food. Not will the Zgrill! Set it and forget it! So far I have cooked whole chicken wings and babyback ribs with no problem at all! I would recommend Zgrill to anyone!
-Caesar N.
NEVER DISAPPOINTED!
★★★★★
I've owned several types of grills over time and the Z grill is the best grill I've ever owned. It's very easy to use and you can set it and forget it. It is well crafted and heavy duty for sure. I love my Z grill.
-TERESA C.
Best Value and Great smoker
★★★★★
Easy to use and awesome, got a Bluetooth meat thermometer and it's a traeger for a 1/3 of the price.
-Stephen J.
FOOD TASTES GREAT!
★★★★★
I bought my 700d4e back in April and I gotta say I am absolutely in love I have over 250hrs on it and it has been flawless!! Have smoked everything from brisket to baby backs to bacon wrapped pork **** and I couldn't be happier Have recommend to everyone I know!!!
-JASON D.
GREAT GRILL
★★★★★
Everything went off without a hitch. The grill worked flawlessly, held temperature consistently. Cedar plank salmon and roasted, seasoned cauliflower. Can't ask for more.
-RICHARD P.
Great quality, great temp consistency
★★★★★
First putting this thing together , you could feel the craftsmanship and heavy duty material that was used for construction. My first smoke was 2 racks of ribs, 6 chicken breast and 2 salmon filets set at 225 and it stayed at a consistent 225 for the wntire 5 hr smoke. GREAT PRODUCT!!! The high setting goes till about 450 degrees which makes this thing a grill as well. Very happy with my purchase look to smoking lots and lots of meats!!!
-Sean F.
EASY TO ASSEMBLE AND SMOKE
★★★★★
I was pleased with packaging and instructions for assembly, it went together very easily. Using a Z Grill recipe for skirt steak the end result was outstanding and cooked perfectly by the Z Grill. I am more than please.
-JARED W.
Blind Box grill suprise
★★★★★
Ordering the Z Grill Blind Box was kind of exciting. First, how can you beat the price! The shipping is right to your door for free, and the quality of the grill is amazing. Assembly is quite easy, and the genius that decided to install the nut inserts, well thought out. The grill works super good. Overall, I highly reccommend that all should buy one of these grills!
-Rick O.
AWESOME VALUE JUST GOT EVEN BETTER!
★★★★★
Wifi feature works well. This thing is the awesome product for smoking meat! Absolutely phenomenal product, great customer service, keeps heat beautifully, smokes like no other....so glad I ordered it wihout regret. The wifi and work perfectly, no issues and the probes are dead nuts accurate. I love this guy!
-Richard T.
2022 Blind Box
★★★★★
Love the new grill! Got the 700c2e2!! Couldn't be happier. Great grill and a great deal!
-Mike Stetler.
Absolutely Love It!!!
★★★★★
I absolutely love it!! Always looking forward to the next use!!! Fantastic Grill/Smoker!!
-Michael Zalegowski
Father's Day gift.
★★★★★
My blind box experience was fantastic!! I received the 6002B3 (the firebeast blue) and I love it! It Took me about and hour to assemble and I was ready to cook the next day wich was fathers day!! We did chicken, steaks,sausages, & bugers.The food was everything! The key to a pellet grill is simple I believe. Low slow,set it and forget it! It does everything it's suppose to do! Definitely worth the money! Can't wait for my next smoke! Thanks Z Grills! Awesome product!
-Dondrecqus Roller
Works for us
★★★★★
This grill was purchased for my daughter and son in law. I've been using a zgrill for around 4 or 5 years. Both families love our grill. My son in law has been smoking as long or longer then me, he had another brand and it burnt out. I think he will get longer use out of hos zgrill.
-John Doe
Exciting and Rewarding
★★★★★
I ordered my Z Grill blind box on Friday before Memorial Day. When I opened it up, it was so well packed, there was no damage, and I grabbed my tools and dug in to assemble the best grill I've ever owned, and I'm nearly 70 years old. I smoked a tri-tip overnight and people haven't stopped raving about it for the last two weeks. Wait until they try my brisket! I received the zpg-550c and couldn't be happier.
-Robert Neel.
Mystery received
★★★★★
I can say that the experience was good. It was as expected. I would guess that more than 50% of us that order get the cheapest unit. It is still a bargain at that price and I had a chance at something outside of what I was willing to pay. The Zgrill is a well built unit.
-Marc SMITH
Loving it so far!
★★★★★
First off, I really enjoyed the Blind Box experience. I opened up the 550c. Couldn't have been happier. Looks awesome. Easy to assemble. Just did my first, initial burn with Bear Mountain pellets and it worked flawless. Can't wait to truly break this in with a pork butt. Highly recommend this to anyone wanting a pellet grill
-Heath Erwin
First Smoker Experience
★★★★★
My pellet grill is my first experience smoking meats of any kind. In the few weeks since I received it I've smoked poultry, pork, and fish. Everything is easy to understand and set up, and delivers great flavor right out of the box. If it can do everything I ask of it this summer, I may get rid of my propane grill and use pellets exclusively. My only tip is to buy the extra wide foil for the drip tray. You can make it work with standard width foil, but being able to use just one sheet is well worth it.
-Steven Musselman.
Blind box
★★★★★
Just ordered the blind box, hope they send me the best they got. 700D owner for 2 1/2 years zero issues now we adding to the Arsenal.
-Bill Scott
Wood-Fired Technology
Digital Controller - automatically regulates temperature.
Auger - carries the pellets to the firepot.
Hot Rod - ignites the pellets.
Induction Fan - stokes the fire and maintains temperatures to your desired set point.
Fire Box - creates flavorful wood-burning fire, circulating heat and smoke throughout the cooking chamber.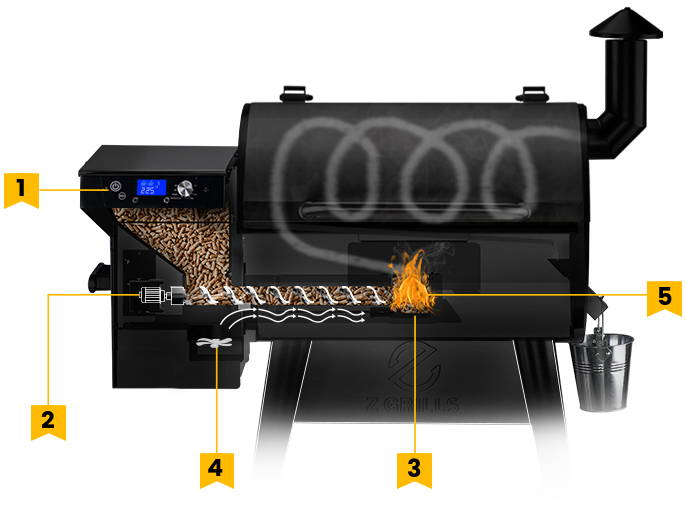 Check out our library of recipes.
PELLET GRILLS VS.
TRADITIONAL GRILLS
Pellet Grill
Precise temp Set & forget 8-in-1 Pure smoky flavor Cooks evenly
Digital temperature controller maintains consistent temperatures.
Set & forget operation eliminates the need to babysit the grill.
Hardwood pellet cooking system infuses excellent wood-fired flavor.
8 cooking styles: sear, smoke, BBQ, roast, char-grill, braise, bake, and grill.
The convection heating process ensures even cooking while eliminating flareups.
Charcoal Grill
Requires tending Messy Flareups Cooks unevenly Hard to control temp
Temperature is tricky to control by adjusting the charcoal, the air flow, or both.
You must frequently check the temperature and add/remove briquettes as needed.
Different areas of the grill will be different temperatures.
Take time to light and get up to temperature; can be very messy.
Cooking food with direct heat causes uncontrolled flare-ups and you're more likely to burn it.
Gas Grill
Not safe Imparts no flavor Tricky to control Burns food easily Cannot smoke
You'll need to be very careful about the fire hazards associated with gas grills.
Gas is odorless and tasteless.You'll be missing out on that smoky flavor.
There is a learning process in getting a precise temperature.
The open flame will burn the surface of the food before the inside cooks.
Unable to smoke & not designed for cooking low and slow.
Electric Smoker
Cannot grill Less smoky No smoke ring Drys food
You cannot grill on an electric smoker. The temperature won t get hot enough.
You're going to miss that rich, smoky flavor that you would get from a pellet grill.
It's highly unlikely to get a nice bark and a smoke ringon an electric smoker.
A tendency to dry out food (water pan required).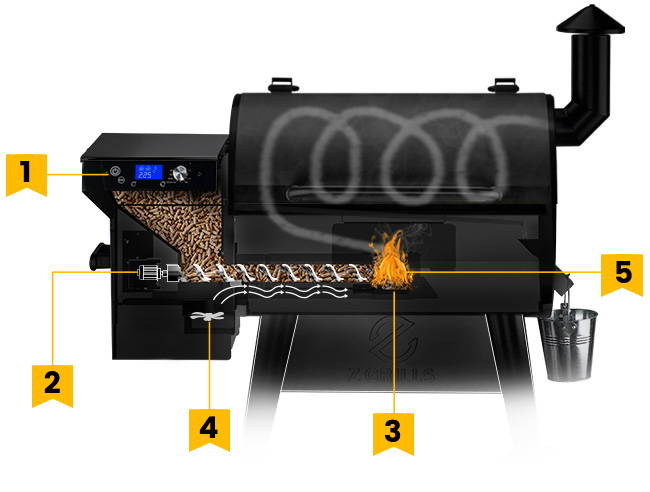 Wood-Fired Technology
Digital Controller - automatically regulates temperature.
Auger - carries the pellets to the firepot.
Hot Rod - ignites the pellets.
Induction Fan - stokes the fire and maintains temperatures to your desired set point.
Fire Box - creates flavorful wood-burning fire, circulating heat and smoke throughout the cooking chamber.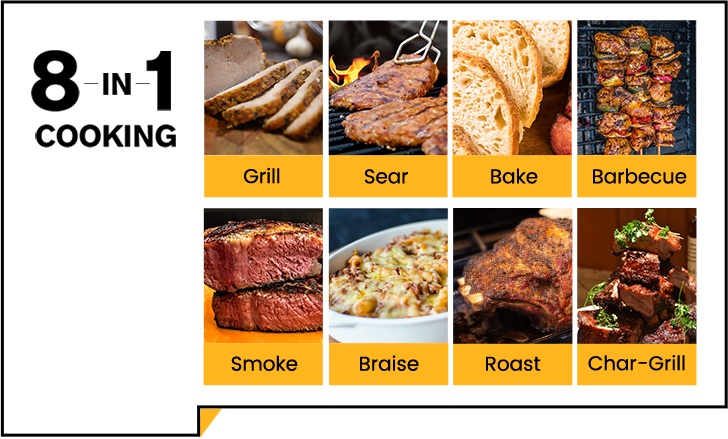 Temperature Range

180-450 °F (indirect heat)

Grill Grate Material

Porcelain-coated steel

Warranty

3 years

Packaging Weight

86 to 131 lbs

What's in the Box

1 × Pellet grill




1 × Mission card




5 × Foil bucket liners




1 × BBQ sticker pack




1 × User manual




1 × Pair of assembly gloves
FAQS
You may be interested in these questions about our pellet grill blind boxes.
Normally your order will be shipped in 1-3 business days.
Can I sear on the Blind Box pellet grills?
Yes, you can. Searing occurs in the area that meat touches the hot grate where the temperature is between 350-500 °F. Our 6002E , 500A , 550C (5502G), and 7002C2E have a temperature range of 180-450 °F, so it's easy to achieve a perfect sear with them.
Does everything put on a Z Grills get that rich smoky flavor?
Cook all your favorite recipes on the Z Grills, because everything that can be cooked, will taste better cooked with a savory, smoky flavor. Smoke will be visible in cycles at temperatures of less than 250°F, infusing rich smoky flavor to your food. Above this temperature the fire will burn hotter and cleaner with less smoke.
How long does it take to assemble a Z Grills pellet grill?
Z Grills pellet grills are easy to assemble with all the tools supplied. All you need is about 30-60 minutes on your hand and open space. 
Our grills are built to last and backed by our 3-year warranty. If there are any defects in material and workmanship under normal use and maintenance for a period of three(3) years from the date of original purchase, we've got you covered. And, if you have any questions about your grill, our customer support team and technical professionals will have your back.
How does your return policy work?
There are no returns, refunds, or exchanges on any of our blind boxed grills unless there are quality issues. To initiate a return, please both call us at 1-833-947-4557 and email us at support@zgrills.com. We accept the return of defective products for 30 days from the date of purchase. All merchandise must be returned unused, unassembled, and in the original packaging.
I ordered the blind box and two bags of pellets. But I only received the pellets and my order is shown delivered. Why is that?
Your blind box and pellets are shipped from different warehouses and arrive in different boxes on different dates. However, as our website currently only allows us to add only one tracking number for an order, your order will be shown delivered by default when you receive one of the shipments. To check on the status of the other shipment, you can use the tracking number from your order status email.
Limited Edition Blind Box